Father Fucker
---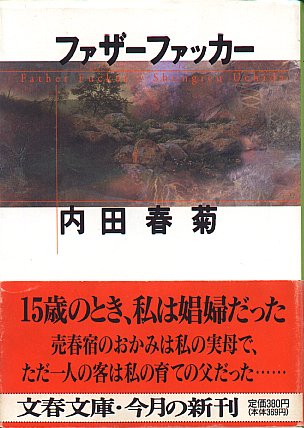 Popular Japanese cartoonist, essayist, and novelist Uchida Shungiku (family name first) in this novel based on her childhood experiences gives a shocking picture of a side of life in Japan seldom acknowledged to exist.
At age 27 the main character, Shizuko, reflects on the events which led up to her running away from home at the age of 16. Years of psychological and physical abuse at the hands of her stepfather culminate in repeated sexual abuse following a junior high school pregnancy and midterm abortion. Active in the psychological abuse and complicit in the physical and sexual abuse is Shizuko's mother, who also suffers abuse at the hands of the common-law husband she has brought home from her job as a bar hostess.
This 1993 bestseller shocked Japan with its frank, no-holds-barred depiction of domestic abuse.
special order from
amazon.co.jp
---
I have completed the first draft of a translation of this book. The partial translation which had previously been available on this page has been removed. If you would like to read the complete version, please e-mail me.